An early story concept for Disney+'s Obi-Wan Kenobi series would have heavily featured the fan-favorite clone officer Commander Cody, and whether or not this would have made the show better is a matter of debate. Commander Cody is the first named clone trooper to appear in the live-action Star Wars saga films (excluding Commander Ponds via retcon and 99 from the Legends continuity), and he plays a prominent role in canon and Legends-era material, particularly in 2008's Star Wars: The Clone Wars, where he's Obi-Wan's second-in-command of the 212th Attack Battalion and one of the general's closest friends. Cody's planned inclusion in the Obi-Wan series would have made it a fundamentally different show, though not necessarily better.
Despite fighting alongside General Kenobi for most of the Clone Wars, Cody attempts to kill him when Order 66 is given. However, Cody's actions are involuntary due to his control chip implant. Unfortunately, Cody's story after the Star Wars prequel trilogy has been shrouded in mystery, with an upcoming appearance in Star Wars: The Bad Batch teasing that the commander's post-Order 66 escapades will finally be revealed. The Obi-Wan Kenobi series, however, nearly gave him a live-action role, which would have seen him work alongside his old friend on Tatooine.
According to showrunner Stuart Beattie, Commander Cody would have had his control chip removed before the events of Kenobi and assisted the former general on his mission to remain hidden from the Empire and protect a young Luke Skywalker motivated by guilt over his involuntary actions during Order 66. While this planned concept would have been excellent for Commander Cody and Obi-Wan, it could have fundamentally changed the Kenobi series, potentially keeping it on Tatooine longer than viewers would have liked. Moreover, with all of Kenobi's new characters, the series might not have had room to develop them properly, with Cody at risk of being underdeveloped to make room for new characters like Reva and Tala. While the rejected Commander Cody concept wouldn't necessarily make Kenobi better or worse, it could have easily resulted in a significantly different series.
Why Commander Cody Was Cut From Obi-Wan Kenobi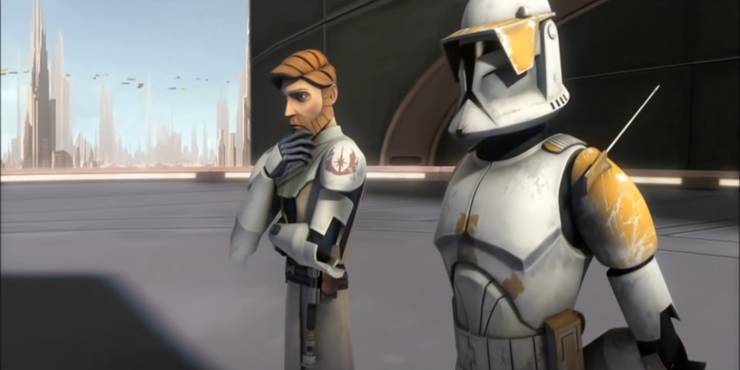 Beattie claims that Temuera Morrison's limited availability due to The Book of Boba Fett was a major factor in his Kenobi role being rejected, but considering Cody's importance to Obi-Wan's story, and the Star Wars saga writ large, the decision could have also been made to trim down the show's content and keep it focused on Obi-Wan, Leia, Darth Vader, and Reva. Not all viewers would be familiar with the clone control chips, so additional exposition would be prudent to adequately explain why Cody is Obi-Wan's friend once again. Cody's absence in A New Hope also means he'd likely have to die in the Kenobi series, a death that might upset viewers, considering his popularity.
Commander Cody will finally return to the Star Wars canon continuity in The Bad Batch, arguably a more fitting series than Kenobi. The Bad Batch is, among other things, focused on telling the stories of clone troopers in the immediate aftermath of the Clone Wars and Palpatine's coup, and it's in the perfect position to show Cody being freed from Imperial brainwashing as well. The Obi-Wan Kenobi series told a crowd-pleasing original story that refreshingly spent little time on Tatooine, so for many, the decision to cut Commander Cody and have him reappear in another Star Wars property is arguably the right move.