The Boys' Crimson Countess actress Laurie Holden explains Seth Rogen's surprising season 3 cameo. Based on Garth Ennis and Darick Robertson's comic of the same name, Prime Video's The Boys was created by showrunner Eric Kripke alongside Evan Goldberg and Rogen. As a satirical, R-rated spin on the superhero genre, the series engages in social commentary and takes place in a semi-realistic world. The Boys regularly references pop culture and even features celebrity cameos, with Rogen making a cameo as himself in every season.
Rogen made his first appearance in The Boys season 1 episode 6, "The Innocents," alongside Black Noir, promoting the film Black Noir: Insurrection. Then, in the season 2 premiere, "The Big Ride," he's shown during a tribute to Translucent, who was killed by Hughie Campbell, Billy Butcher, and the Boys in season 1. While those cameos as a producer were relatively tame, in season 3 episode 5, "The Last Time To Look On This World," Rogen takes on arguably his most outlandish role yet as "SirCumsAlot779" — the enthusiastic webcam subscriber of Crimson Countess (Holden). Unfortunately for Rogen, Crimson Countess is tackled by Butcher before she can put those anal beads to good use. Now that Rogen's long since finished, Holden has opened up about filming his surprising cameo.
In a recent interview with Variety, Holden discussed her scene with Rogen. The actress revealed much of the scene was improvised and Rogen's portion was added after the fact. Read what she had to say below:
"I thought it was super funny [when first reading the webcam scene]. A lot of that scene was improvised. This is the beauty of The Boys, they support you and they're so kind and collaborative that you can creatively fly. A lot of what I did in there was just inspiration in the moment that ended up being completely whacked out…I knew it was probably going to be Seth. But it was just the script supervisor saying lines off camera and me just looking into the iPhone and playing it in my imagination as if he was really there. What's kind of fabulous about that scene was our tempo was so connected. However, it was edited and he did his performance with mine. It was seamless, as if it was really happening in real time."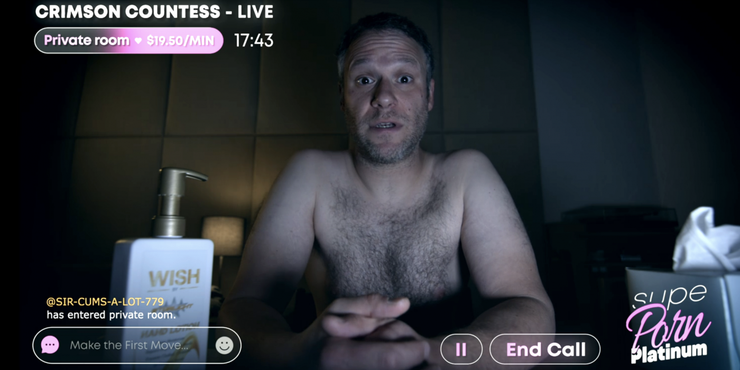 While Holden wasn't sure her admirer would be Rogen, it makes sense The Boys would utilize his shameless comedic talents and already-established presence in the series. As previously mentioned, Rogen's cameos in The Boys' first two seasons see him promoting films that take place in the Vought Cinematic Universe. It's been explained that Rogen plays a character akin to the Marvel Cinematic Universe's Nick Fury or Agent Phil Coulson in the VCU, showing up in pretty much every film. Presumably, Rogen is still playing the same version of himself in season 3.
Rogen's season 3 cameo is both his funniest appearance and, ironically, most appropriate. It encapsulates how the series mocks celebrities' public versus private personas as Rogen is charged $19.50 per minute for his Crimson Countess session. Furthermore, it fleshes out the world of The Boys by introducing the existence of "Supe Porn Platinum," which is clearly an OnlyFans parody. In the past, showrunner Kripke has said additional footage that was filmed of Rogen's character hasn't been used in The Boys. Given that the executive producer can film things remotely as he did in the scene with Holden, audiences should expect to see even more of him in The Boys season 4 (but hopefully not as much).