Wyatt Russell shares his thoughts on the future of U.S. Agent in the Marvel Cinematic Universe following The Falcon and the Winter Soldier. Marvel Studios' second live-action series to premiere on Disney+ began with Sam Wilson (Anthony Mackie) declining the mantle of Captain America and giving up the shield. At the end of episode 1, audiences were introduced to John Walker (Russell), a three-time Medal of Honor recipient chosen by the government to be a "new Captain America." Suffice to say, Falcon and the Winter Solider's eponymous characters and its audience viewed him as a knock-off of Steve Rogers. 
Throughout The Falcon and the Winter Soldier, Wilson, Bucky Barnes (Sebastian Stan), and Walker pursue Karli Morgenthau and her anti-nationalist group of super-soldiers, the Flag-Smashers. Motivated by impostor syndrome and overall inadequacy, Walker takes the Super Soldier Serum in episode 4. Following the abrupt death of his brother in arms, Lemar Hoskins, an enraged and high Walker chases down a Flag-Smasher and beats him to death with the once-mighty shield. After being stripped of the "Cap" mantle, abandoning vengeance, and working with the real heroes, La Contessa Valentina Allegra de Fontaine (Julia Louis-Dreyfus) offers gives him a black uniform and a new mantle in "U.S. Agent."
In an interview with Collider, Russell reflected on his character's arc in The Falcon and the Winter Soldier. When asked if he'd like to see his character delve deep into his "villainy," the actor discussed what John Walker/U.S. Agent could become in future MCU projects. Russell explained that there were many potential paths for the character, saying:
"I haven't really even thought about, if the character comes back, what I hope he becomes. There are so many different ways that you can go with it. I just hope that whatever it is, is continued along this line of this struggle with self. That is something that I can do, as well as I think it needs to be done. As long as he has that conflict within himself, he can have a change of mind and he can go through therapy. There are lots of different ways you can go. I only ever hope that it goes an interesting way, but a certain way, that's not up to me."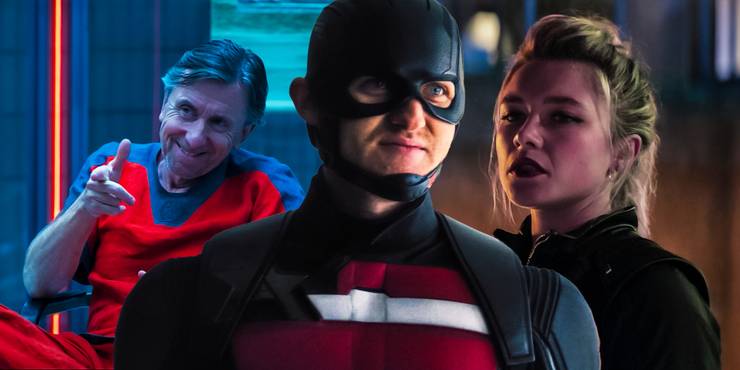 The U.S. Agent reveal in The Falcon and the Winter Soldier (as well as Baron Zemo imprisoned in The Raft) implied an anti-hero/villain team being assembled, à la the Dark Avenger or the Thunderbolts. Valentina's recruitment of Yelena Belova (Florence Pugh) in Black Widow, her role in Disney+'s Hawkeye, and the resurgence of Abomination (Tim Roth) have further cemented this theory. Earlier this year, it was announced that Jake Schreier and Eric Pearson are developing an MCU Thunderbolts movie, which will be the equivalent of DC's Suicide Squad. While no cast members have been announced, it's rumored to feature Baron Zemo (Daniel Brühl), Yelena Belova, Abomination, and potentially Russell's U.S. Agent.
Russell says he has yet to get a call from Kevin Feige and Marvel Studios, and nothing official has been announced regarding his MCU future. Presumably, he'll return as U.S. Agent in the upcoming Thunderbolts film or alongside Mackie in the announced Captain America 4. In the comics, U.S. Agent is very much an anti-hero acting as a deconstruction of patriotism. John Walker's redemption at the end of The Falcon and the Winter Soldierdidn't quite win all everyone over, which is likely for the best. As Russell says, as long as U.S. Agent has a "conflict" within himself, he'll remain an interesting character to explore.